Color me Lucky instructions:
Step 1
Follow instructions to make molded crayons.
Step 2
Print the cards by clicking the picture below
Step 3
Cut cards out
Step 4
Use a hot glue to glue gun to apply a generous amount of glue and place the molded crayon. Because of the wax, the crayon will be easy to remove.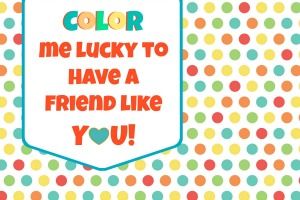 Write friend for me instructions:
Step 1
Print cards by clicking the picture below
Step 2
Cut cards out
Step 3
Using a X-Acto knife, cut along the dotted lines
Step 4
Insert pencil through the slots